PowerLanguage International Conference, Edinburgh, Scotland
Monday 17 September and Tuesday 18 September 2018
PowerLanguage within the 1+2 Language Policy: a Scottish Model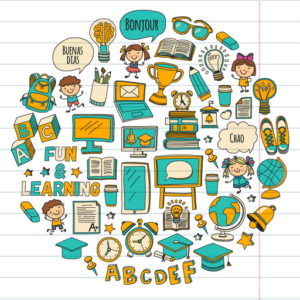 The Scottish Government's 1+2 language policy is aimed at ensuring that every child in Scotland has the opportunity to learn a modern language (L2) from Primary 1 – age 5 – until the end of the broad general education (S3 – age 14).
Additionally, each child is entitled to learn an additional language (L3) from Primary 5 – age 10 – onwards. This policy should be fully implemented across the country by August 2021.
PowerLanguage, a language training centre based in Edinburgh, has been involved with the implementation of this policy since its inception in 2012. It currently provides resources, training and advice to more than 50% of Scottish Local Authorities. Over the past 5 years, over 200 cross-curricular thematic dossiers have been developed to support Primary practitioners around Scotland.
Embedding languages into the curriculum, a full school approach, a progressive programme, upskilling primary teachers who are not language specialists, are some of the challenges met by PowerLanguage since 2012.   This year, we have decided to share our good practice and open up our annual PowerLanguage users Conference to practitioners and policy makers from other parts of the world.
Programme
Monday 17 September 2018
Venue details: SMC FP Club, 523 Ferry Road, Edinburgh EH5 2DW
9.00 Coffee and registration
9.30 Welcome and Introduction from the PowerLanguage Team and ice-breaker session. Richard Tallaron, Elise Gay, Roslynn Main and Nadine Fraize.
9.45 Scotland's 1+2 Language Policy in the wider European context: common challenges and different approaches. A view from The European Centre for Modern Languages of the Council of Europe. Keynote speaker: Sarah Breslin, ECML Executive Director.
10.35 Embedding languages across the Primary curriculum. Joint presentation from Virginie Bradbury & Lucie Maupetit,  Development Officers PanTayside; Sylvia Georgin, Development Officer, Aberdeenshire Council;  and Nadine Fraize, PowerLanguage.
11.15 Coffee
11.45 Language policy in Western Australia. Kate Reitzenstein, AISWA Languages consultant, MLTAWA immediate past President.
12.15 Hands-on language activity.
12.30 German and CLIL  in the primary sector, Western Australia and PowerLanguage in Australian schools. Helen Kuehs, Baldivis Primary School language teacher, MLTAWA vice-president, TAGWA president.
13.00 Lunch and networking
13.45 Hands-on language activity.
14.00 Digital Learning. Richard Tallaron, PowerLanguage

PowerLanguage online courses
Teacher training presentation
PowerLanguage in the wider community: online courses for families. Case study from SCILT. Presentation from Tamsin Frost, Development Officer: 1+2 Language Learning, Fife Council
L3 or how to introduce a new language and culture with learners and teachers learning together:  Discover China and Mandarin. Joint presentation and hands-on activity from Natalie Wotherspoon, 1+2 Staff Tutor, Angus Council and the PowerLanguage team
15.00 Group discussion:  What can we take from and add to the Scottish model?
15.30 Plenary
16.00 End
Dinner: All welcome to join us for dinner in Edinburgh starting at 19.30.  Further information to follow.
Tuesday 18 September 2018 (optional, available to international colleagues)
9am:   Workshop.  Venue:  The Green House, 41 St Bernard's Crescent, Edinburgh.
Morning: Visit to a Scottish School. Meeting with pupils, teachers and the school management team.
Afternoon: Presentation of the Scottish Education System and discussion.
———
Cost:
1 day: £25 / 25€, including conference fee, lunch and refreshments on the Monday (free for PowerLanguage users)
2 days: £100 / 100€, including conference fee, 2 lunches, dinner, transport to and from schools on Tuesday.
Registration:
Please register before Friday 31 August 2018.
Please note this event of interest taking place in Scotland after the PowerLanguage Conference:
Wednesday 19 and Thursday 20 September 2018: Scottish Learning Festival in Glasgow.
Contact:
To book your place, please contact:
Roslynn Main
PowerLanguage Ltd
Email:  info@powerlanguage.net
Tel: +44 (0)131 343 3773